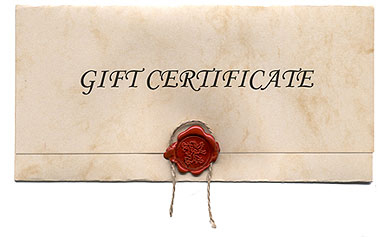 Perfect for any occasion, our Gift Certificate transfers the decision-making to the recipient, who can use your gift to purchase a cooking class at anytime they wish. Your certificate can be sent by e-mail or regular mail (anywhere). There is no additional charge. Save Time with Deferred Delivery where you can order today and select the date you want the gift certificate to arrive: Purchase certificates for everyone on your gift list at one time. Select the date you'd like each certificate sent and we'll take care of the rest. No charge. Your certificates will arrive on time for birthdays, anniversaries, holidays, and other special occasions.
Remember that our gift certificates make great gifts. These make great unique, memorable and fun gifts. All you need to do is let us know the name of the gift recipients; let us know how what gift you would like to give and we'll take care of everything else. We'll send them the certificate with a current schedule via regular mail or e-mail (You choose). After they have made their selections, we'll enroll them in our classes.
We have created special gift certificates that can be used in conjunction with our promo codes to save money!
(These include the online service charge of $6 pp) in the amounts of: $27 (1 person), $54 (2 people), $81 (3 people) and $108 (4 people).
When you purchase these specific amounts, you must write down in the notes section of your gift certificate that the person receiving the gift must use the following promo codes with their gift certificate code in order to get the class for only $27pp (class fee plus the $6pp online service charge). Otherwise, the system will charge them $156 per person (the normal class fee) and to follow the instructions provided below:

PROMO CODES:
COOK1( for 1 person)
COOK2 (for 2 people)
COOK3 (for 3 people)
COOK4 (for 4 people)
Instructions when in the shopping cart:
- Enter numer of seats desired under QTY and click the UPDATE ORDER button
- Then enter your gift certificate code in the box: i.e. S4K8HZTY
- Click Apply
- Then enter promo code in the box: i.e. COOK4
- Click Apply
If they need assistance, the can email us (no phone calls) at info@napoliculinaryacademy.com We will take care of them :)

If you already have an account log in on the left to make purchasing a gift certificate faster and easier.