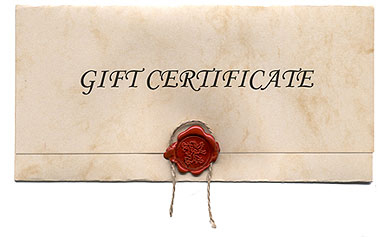 Perfect for any occasion, our Gift Certificate transfers the decision-making to the recipient, who can use your gift to purchase a cooking class at anytime they wish. Your certificate will be sent by e-mail (anywhere). There is no additional charge. Save Time with Deferred Delivery where you can order today and select the date you want the gift certificate to arrive: Purchase certificates for everyone on your gift list at one time. Select the date you'd like each certificate sent and we'll take care of the rest. No charge. Your certificates will arrive on time for birthdays, anniversaries, holidays, and other special occasions.
Remember that our gift certificates make great gifts. These make great unique, memorable and fun gifts.
We have created special discounted Gift Certificates for the Holidays!

The gift certificate emails will not show the amount you spent.You can type in anything you like in the notes section for the recipient to see. To redeem the special discounted holiday gift certificates, please have the recipient email us.

Click the "go" button below to purchase

(These include the online service charge of $8 pp) in the amounts of:
$33 (for 1 seat in a class)
$66 (for 2 seats in a class)
$99 (for 3 seats in a class)
$132 (for 4 seats in a class)
Groupon codes, Flash Sale Codes, Promo Codes or any other discounts cannot be used to purchase gift certificates
*Not valid for any "Special Event Classes/Specially-Priced Classes)i.e Valentine's Day/Mother's Day/Father's Day

This is an example of what your gift certificate will look like:
Dear Bob,
This is a very special gift for you from John & Jane. This is a Gift Certificate for a Culinary Class including Lunch/Dinner. Beverages and Cocktails May Be Purchased at our Italian Full Bar) at The Napoli Culinary Academy.
You will have a large variety of gourmet cooking classes and menus to choose from.
Code:

3H1N203V4
Expires:

June 11, 2037
To redeem this gift certificate, email the code above to Napoli Culinary Academy at info@napoliculinaryacademy.com

Once we receive your email, we will assist you in your reservation.
We look forward to cooking with you soon!
Sincerely,
Napoli Culinary Academy
---
Note from John & Jane
Merry Christmas! Enjoy a date night out on us.
If you already have an account log in on the left to make purchasing a gift certificate faster and easier.