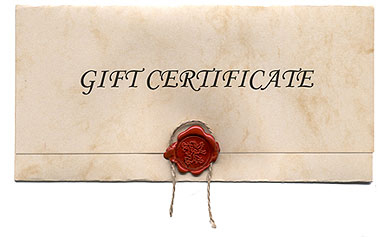 Perfect for any occasion, our Gift Certificate transfers the decision-making to the recipient, who can use your gift to purchase a cooking class at anytime they wish. Your certificate will be sent by e-mail (anywhere). There is no additional charge. Save Time with Deferred Delivery where you can order today and select the date you want the gift certificate to arrive: Purchase certificates for everyone on your gift list at one time. Select the date you'd like each certificate sent and we'll take care of the rest. No charge. Your certificates will arrive on time for birthdays, anniversaries, holidays, and other special occasions.
Remember that our gift certificates make great gifts. These make great unique, memorable and fun gifts.
We have created special gift certificates that can be used in conjunction with our promo codes to save you money!*
(These include the online service charge of $6 pp) in the amounts of: $32 (1 person), $64 (2 people), $96 (3 people) and $128 (4 people).
When you purchase these specific amounts, please write down in the notes section of your gift certificate for the recipient to email us to redeem their gift certificate at: info@napoliculinaryacademy.com
We will be happy to assist them in making a reservation using their gift :)

*Not valid for any "Special Event Classes/Specially-Priced Classes)
If you already have an account log in on the left to make purchasing a gift certificate faster and easier.